South Africa's largest pond-based aquaculture farm
Zini Fish Farms is 44.75 hectares in extent and comprises 52 half-hectare earthen ponds (26 hectares of ponds). The primary product is Saltwater Tilapia (Oreochromis mossambicus) - popularly known as Mozambique Tilapia or Blue Kurper in South Africa. The warm climate, access to sea and estuary water is also well-suited to rare and delicious fish like Dusky Kob, Spotted Grunter, Natal Stumpnose, Malabar Rockcod and Mud Crab.
The farm is situated alongside the Mlalazi Estuary in the picturesque coastal village of Mtunzini in northern KZN, between Durban and Richards Bay.
The farm boasts a well-engineered pond and canal system.
Facilities include a hatchery, nursery, workshops, cold-room, feed store, administrative offices, managerial and staff accommodation. The hatchery has 2,000+ actively spawning Tilapia breeders. The nursery has the capacity to re-stock all ponds on an annual basis and also to sell fingerlings to emerging farmers in KZN and beyond.
The farm produced and sold more than 60 tonnes of Dusky Kob in 2018/9. The main buyers being high-end fish traders in SA and also Woolworths via its strategic partner, Three Streams.
The focus is now on Saltwater Tilapia.
Mozambique Tilapia (or Saltwater Tilapia as we prefer to call ours) are native to coastal regions and the lower reaches of rivers in Southern Africa, from the Zambezi River delta to Bushman River in the Eastern Cape. Adults reach approximately 35 cm (14 in) in length and up to 1.13 kg (2.5 lb), but are popularly sold as plate-sized fish of 150 – 200 g.
They are omnivorous and can consume detrital material, diatoms, invertebrates, small fry and vegetation ranging from microalgae to rooted plants. This broad diet helps the species thrive in Zini Fish Farms' earthen ponds supplied by the nutrient rich Mlalazi Estuary. This not only reduces feed input cost, it is the epitome of "free range" farming.
Globally, tilapia has gained acceptance because its mild, white fillets can be seasoned to appeal to a variety of consumer tastes.
It provides a low-cost option for those interested in eating more fish as part of a healthy diet. In the United States, tilapia is ranked fourth in terms of per capita consumption of seafood in the United States, only trailing the more popular shrimp, salmon, and canned tuna. According to FAO (Food and Agriculture Organisation of the United Nations) the average fish consumption rate in Sub-Saharan Africa is estimated at 8.9 kg per capita compared to a world average of 18.9 kg. This is largely due to limited supplies.
Market potential in South Africa
A study on the potential market for tilapia in Diepsloot, Gauteng, conducted by World Fish, DAFF, and GDARD in 2016 estimated monthly demand at 55 tonnes for the 200 000 people living in the township (Chimatiro, Newman & Greengrass, 2016). This was at a price of R51/kg for fresh gutted, gilled & scaled tilapia. (To put this into context – Diepsloot township alone could account for Zini Fish Farms' entire annual output at full production. The 3 municipal areas adjacent to the farm have a population exceeding 1.6m and the province of KZN has a population of 11m+.)
The superior taste of Saltwater Tilapia vs Nile Tilapia (Oreochromis niloticus) that is commonly farmed in fresh water, makes it appealing to not only the township and rural markets, but also for the high-end consumer and restaurants.
We are actively collaborating with WorldFish, NGO's and government bodies to develop a distribution network in rural KZN. This will not only aid food security but will also create employment opportunities.
5 kg bag of Wholefish (small)
< 150 g size @ R200/bag

Minimum order 4 bags i.e. R1,000
5 kg bag of Wholefish (large)
>150 g size @ R250/bag

Minimum order 10 bags i.e. R2,500
< 5 g @ R2.50/fish

Minimum order quantity 1,000 i.e. R2,500
5+ g @ R4.50/fish

Minimum order quantity 1,000 i.e. R4,500
Fresh and > 150 g size @ R20,000/bin

Excludes cost of road-freight delivery, dependent on distance

Regular harvests to commence in 1st quarter 2020
*All prices are ex-farm and exclude VAT
The farm plays an active role in aquaculture industry organisations and collaborates with academic institutions and local/global research projects.
Its extensive pond system and on-site accommodation offer opportunities for long term research projects. We invite proposals from credible institutions. A rental/fee for facilities and expertise will be negotiated on a reasonable commercial basis. By prior arrangement, the farm is receptive to visits by small groups of aquaculture students from tertiary academic institutions.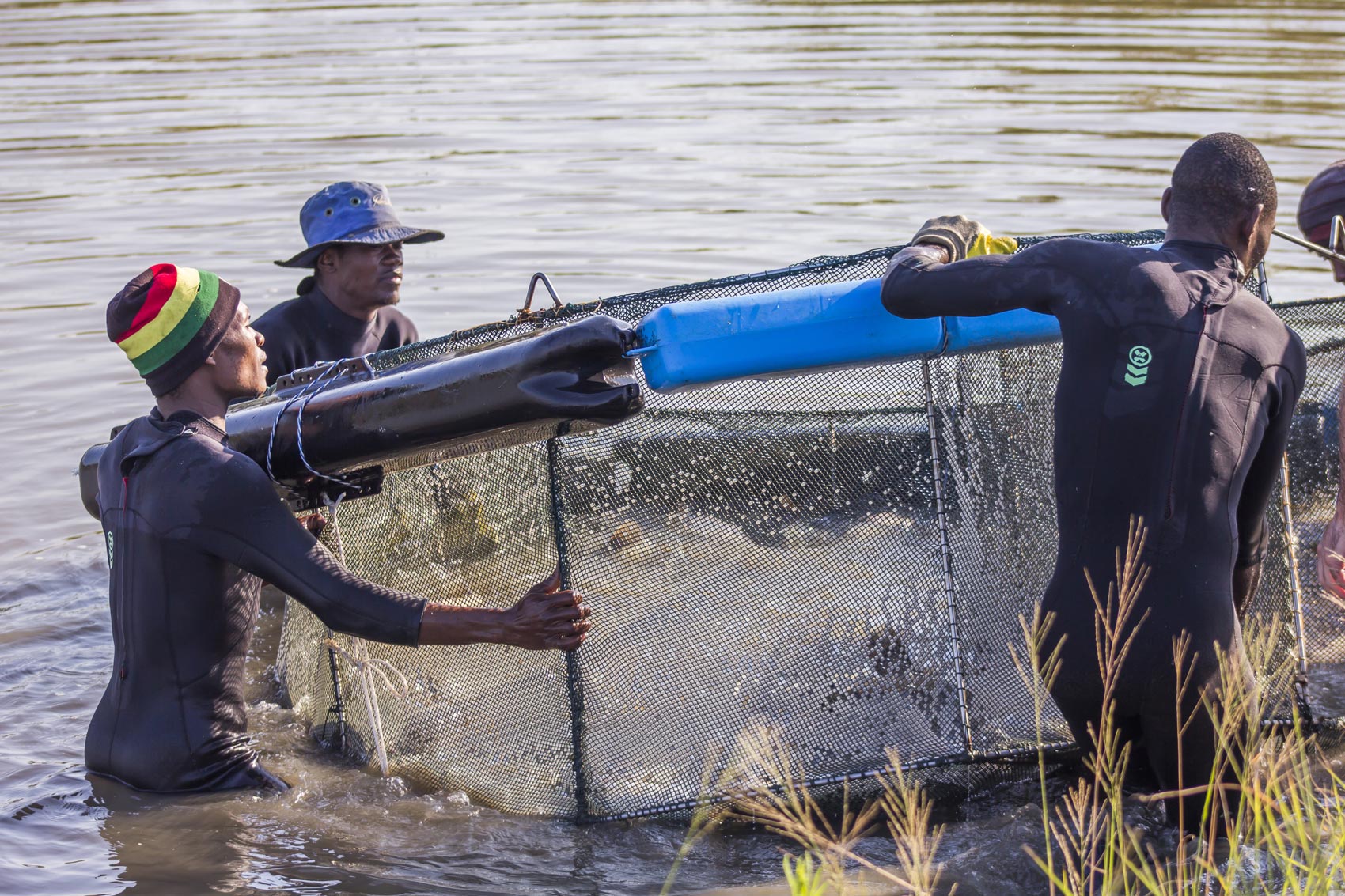 The farm employs a core group of 12 people, most of whom have been with the farm for 5+ years. From time to time it creates internship opportunities for graduate interns and other temporary workers.
Neil Stallard
BSc, Adv BPM (UCT), Dip Sustainable Aquaculture (St. Andrews)

Extensive experience in ornamental fish and Dusky Kob aquaculture. Involved in various South African aquaculture industry bodies. Currently writing MSc thesis on Mozambique vs Nile Tilapia.
Thomas Keet
BCom, BScAgric(Aquaculture) MSc (Fisheries Science)

Started his aquaculture career at the Cape Eleuthera Institute in the Bahamas before moving to Zini Fish Farms in 2013.
Greg Stubbs
BScAgric MSc (Aquaculture)

CEO of Three Streams Holdings, SA's pre-eminent aquaculture and fish processing business.
Deon Keet
BSc (Computer Science) BCom (Economics)

Founder and ex-chairman of MDA Property Systems.
Thomas Keet, Alice & bomvu
Fishing is the last form of modern food production that conforms to a hunter-gatherer modus operandi. Until the mid-20th century, man considered the world's oceans an infinite resource and there was little incentive to cultivate aquatic organisms using modern agricultural techniques. That perception has changed, especially in the last decade or two as wild fisheries production stagnate - due in large to industrial fishing fleets taking their toll on wild fisheries stocks.
Aquaculture has now become an essential component of the global food production system - one that holds great potential for food security and environmentally conscientious food production.
All of them!!!!! Hopefully, one day! Tilapia, kob, grunter, stump nose, prawns, crabs, clams, seaweed, samphire. All of the natural bounties found in our Zululand estuaries.
We previously bred and reared dusky kob and spotted grunter, but after learning a few lessons, we changed focus to Mozambique tilapia. We maintain broodstock for several of the above-mentioned species, but currently rear only tilapia fingerlings in our hatchery.
Traits that make tilapia an ideal species for farming include their rapid growth, prolific breeding abilities, mainly herbivorous diet, and white, succulent flesh. They also occupy a lower trophic level in the estuarine ecosystem compared to a dusky kob, making them a more sustainable option, and one that aligns with the philosophy of integrated multi-trophic aquaculture (IMTA), More on this topic later though.
In the first quarter of 2020, we will harvest our first pond of Zini Saltwater Tilapia, ramping up production from about 5 to 15 tonnes per month by mid 2021.
Isn't it bad for the environment?
Even with the benefit of hindsight, the relatively infantile modern aquaculture industry has had many of the same negative environmental impacts that are associated with modern agriculture. Modern fish farms, generally in the form of high-density monoculture farms stocked with high trophic level species such as Salmonids, have severely damaged some of the environments in which they operate. This form of farming also demands huge quantities of fish meal and oil, derived from severely strained wild fisheries stocks.
Zini Fish Farms subscribes to a different method of farming. The location and nature of our facility allows us to emulate a natural estuarine environment in our earthen ponds. By encouraging and enabling the formation of basic ecosystems comprised of all sorts of organisms, we strive to recreate a far more effective and natural system of producing food.
What is Integrated Multi-Trophic Aquaculture (IMTA)?
It is the way that we try to farm and eloquently expressed in Wikipedia…..
"Integrated multi-trophic aquaculture (IMTA) provides the byproducts, including waste, from one aquatic species as inputs (fertilizers, food) for another. Farmers combine fed aquaculture (e.g., fish, shrimp) with inorganic extractive (e.g., seaweed) and organic extractive (e.g., shellfish) aquaculture to create balanced systems for environment remediation (biomitigation), economic stability (improved output, lower cost, product diversification and risk reduction) and social acceptability (better management practices).
Selecting appropriate species and sizing the various populations to provide necessary ecosystem functions allows the biological and chemical processes involved to achieve a stable balance, mutually benefiting the organisms and improving ecosystem health.
Ideally, the co-cultured species each yield valuable commercial "crops". IMTA can synergistically increase total output, even if some of the crops yield less than they would, short-term, in a monoculture."
CONTACT
Telephone | 035 340 1018
ADDRESS
Farm Address | 2 Hulley Avenue, Mtunzini, 3867
Postal Address | P.O. Box 587, Mtunzini, 3867
COMPANY
Registered Name | Zini Fish Farms (Pty) Ltd
Company Registration Number | 2011/132792/07
VAT Number | 4380261380